Posted by : Unknown
Sabado, Marso 22, 2014
YES YOU!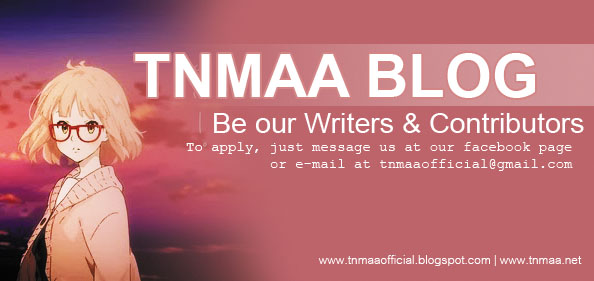 Have you ever tried to share your thoughts and opinion? or even tried to think of something that could help or people might notice it through blogging? If NOT, this would be your chance to expose your thinking in writing a simple yet valuable articles in our blog site, you can even share everything which is valuable something like downloads eg. Anime Series, Movies, Software, Applications, Games and etc.
You don't have to publish very long article as long as it is understandable and co-related to Anime, it's all fine! The things you may have to contribute would be based in your ideas and the news around the web.
Anyone who is interested in joining as our contributor or write may send us message through our facebook page or sending us message at tnmaaofficial@gmail.com. Or you may also contact our staffs at www.tnmaa.net
In applying, you must first agree to our R&R [Rules and Regulations]:
*Know how to become Open Minded person.
*Know how to handle such situation eg. throwing words to words even it's too personal.
*You can't harass readers/commentators.
*Know how to put Credit from an original authors of the blog.
*Know how to use proper Capitalization, it's okay if you're not good at grammar. It can be corrected.
*Know how to use BLOG, means have an experience in blogging. [Learn how to use blogspot, before applying]